TrainWeb.org/aprhf
Below Is A List of NEW ITEMS
Available From The Silver Rails Shop.
Purchases help to support the efforts of the
American Passenger Rail Heritage Foundation (APRHF.ORG),
a 501c3 non-profit organization.

Rails Around Missouri (Hardback)

Product Description: MISSOURI… From the Shadow of the Gateway Arch to the stockyards of Kansas City, from the hometown of Mark Twain through the Ozarks to the hometown of Scott Joplin, come along as we tour the Show Me State's railroad past. CLICK HERE to view more about this item.

The Columbia Branch Railroad

Product Description: This book covers the history of the Columbia Branch from 1836 to 2011. The reader will discover the people and events that made this a unique and successful branch railroad through the era's of many railroad companies such as the North Missouri Railroad; the St. Louis, Kansas City & Northern Railroad; Wabash, St. Louis & Pacific Railroad; Wabash Railroad; Norfolk & Western Railway; Norfolk Southern Railroad and the current Columbia Terminal Railroad. CLICK HERE to view more abou this item.

Outside The Rails

Product Description: The Southwest Chief, which runs between Chicago and Los Angeles, is one of Amtrak's most historic trains. Passengers may be surprised there is actually a lot of scenery and history to learn about between Chicago, Galesburg, and La Plata, MO. Author Robert Tabern has spent a lot of time researching the 300 miles of track and put all his notes together in Outside The Rails: A Rail Route Guide from Chicago to La Plata, MO. The 213 page book explains the geology, history, and just plain interesting things to see along the train route in Illinois, Iowa, and Missouri. ALL proceeds of the sale of this book directly benefit the Trails and Rails Program (National Park Service, Amtrak and APRHF) that is starting on this part of the route this year. Thank You in advance for your support. CLICK HERE to view more about this item.

Chug-A-Chug A Sing-A-Long Train book

Product Description: Sing along as your train Chug-A-Chugs its way from town to town, through rocky mountains, across green prairies, and over flowing rivers. This book is a wonderful item to stimulate your little ones imagination when it comes to playing with his/her new train set. Every page (22) is full color with neat photos showing the toy train as it goes about it daily work. CLICK HERE to view more about this item.
Previously Featured Items:

Tin Signs

Product Description: No train room, office, den or kids room is complete with his/her favorite train or railroad displayed on one of these great tin signs. A gift item that will always make the receiver happy. CLICK HERE to view more about these items.


Outside The Rails

Product Description: 230 pages of great information about the trains and the landscape that they roll by. This route guide from Chicago to St.Paul has it all. This is Mr. Taberns first book and is a must for any Empire Builder fan or anyone who calls this area home. Add this book to your library today. This is a softcover bound book. CLICK HERE to purchase this item!


Train Magnets

Product Description: Andy Fletcher's career as an artist started early. He began drawing trains when he was still in school. He has handdrawn over 1600 different trains, many for railroads and museums. He designed the BN SD70MAC executive paint scheme in the 90's! These are scans of the actual magnets. It may look like a wheel is missing but the complete picture is on each magnet. Build yourself a magnetic train today. When you get your train started check back as their will be more magnets available for you to grow your magnetic empire. CLICK HERE to view more about these items.


Also Of Interest:

Get Your Kicks in a '56

Product Description: While the car was detailed and readied up for its photo shoot one more thing had to happen. Oh yes there it is. The Amtrak Southwest Chief creates a great background for this shot. This truly showcases two great modes of travel. Custom framing or different mounts are available upon request. CLICK HERE to purchase a poster!


Stained Glass Train Art The Chiefs

Product Description: Midwest Independent Art offers custom designed stained glass art. This one can be recreated for you or you can get a quote on a custom one that reflects the colors of your favorite railroad. These works of art average 12 x 31 1/2 inches. Pricing listed is for the square foot please contact the gallery for custom price quotes and billing. CLICK HERE to purchase this item!


All Aboard - The Complete North American Train Travel Guide by Jim Loomis

CLICK HERE for a review of the book by Henry Kisor. CLICK HERE to purchase the book from APRHF SilverRailsShop.com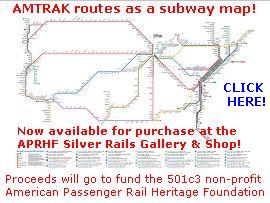 A POSTER OF THE AMTRAK SYSTEM AS A SUBWAY MAP:

CLICK HERE to purchase the poster from APRHF SilverRailsShop.com


ALL PURCHASES from the APRHF SilverRailsShop.com help to fund the efforts of the American Passenger Rail Heritage Foundations (APRHF.ORG).