BROOKLYN EASTERN DISTRICT TERMINAL
.
.
Non-Revenue Equipment
.
...
.


.
Overview
The operations the Brooklyn Eastern District Terminal, like many other railroads, would employ the use of a varied assortment of non-revenue rail equipment. It is unknown at this time; what if any, non-revenue equipment of Palmer's Dock and likewise East River Terminal existed.


Very few photos exist of this assorted equipment, as the locomotives undoubtedly and understandably received most of the attention of railfans. I have been able to glean most images of the non-revenue equipment out of locomotive and property photos by zooming in and cropping the original photo. Naturally, anyone else in the possession of images of BEDT Non- Revenue Equipment is invited to submit those photos.


Fuel Storage Cars - X6, X7, X8, X11, X12 & unknowns
Of this non-revenue equipment, the most ubiquitous and self explanatory are the black tank cars parked at, and around the enginehouse. However, nothing is as simple as it ever seems...


These tank cars stored the Bunker-C oil for use in the steam powered locomotives and tugboats. In later years after the steam powered equipment was retired in 1963, two of these tank cars would be taken off their trucks, permanently mounted in concrete block cradles alongside the south wall of the enginehouse to hold diesel fuel. There appears to have been four of these such cars and these were marked X6, X7, X11 and X12, but I have a strong suspicion there might have been a few others.


X6 & X7 can be distinguished by the wrap around catwalks and handrail on top of the tank car (as opposed to a more modern style platform around the dome, as with X11 and X12 and one of the permanent fuel bunkers (One fuel bunker had a platform around the dome,while the other bunker (believed to be X11), did not.
X6 can be further distinguished from X7 by bent cross braces holding the top handrails parallel to one another. Also, the numbering sequence for the bunker cars appear to be inconsistant:

X6 can be seen in a September 1933 photo (not included below) behind locomotive #6 (which is out of service), even though #6 is shown as a coal burner.
.

X7 is seen in an undated but pre-1941 photo, based on the fact that #10 is in the photo with old style logo. But X7 is not seen in any other photos after this date.


X8 is seen in a circa 1958 photo on the "garden track".
.

X11 is seen already permenantly mounted on concrete blocks, next to locomotive #23 which freshly painted, and on the garden track. The enginehouse has not yet been extended to accommodate the longer diesel locomotives, so this image is pre-1964. It is inferred that when X11 was taken off its trucks and permanently mounted in a concrete block cradle, the number would later be reassigned to the Derrick Car below, when it was built.
.

X12 can be seen in a photo with X6 circa 1958, so it is unclear if tank car X11 was located on another part of the property or acquired after 1958.
.

Two tank cars were permanently mounted on concrete block cradles after the diesels arrived. These were photographed in 1981. After careful examination, those two converted tank cars cannot be positively matched with any of the rolling tank cars (X6, X7, or X12 as previously documented). As only the end of X11 is visible, it cannot be positively matched to either of the permanent fuel bunkers, but it is believed to be the bunker directly next to the enginehouse.
.
.
Derrick Car - X11
Perhaps one of the most interesting pieces of equipment which is seen at BEDT is the Derrick Car, X11. Very little is known about this piece of equipment or it's origin, but it appears to be most likely a "home built" piece of equipment. Considering its light duty appearance, it is very unlikely to have been used for derailments. It can be seen with a "tub" on the flat portion of the car, and in all probability was used for lifting mixed concrete, or perhaps sand and mud when excavating around and maintaining the bulkhead.


According to contemporary accounts, the X11 Derrick Car was built at the suggestion of Riley B. Williams, BEDT master mechanic; and saw limited use.
.
.
Idler / Float Reach Car - X14
Unlike Long Island RR idler cars, which were rather professionally constructed and had a small shanty placed for weather protection of the crew; the BEDT version was nothing more than a modified gondola car marked BEDT X14. The modifications were similar to the Bush Terminal / New York Dock Idler Car #101, where approximately three feet of the side walls were cut away at the four corners of the car, and ladders and grab irons installed, to permit easy crew egress.


The original construction / ownership information for this car is unknown, as is its disposition. It is known however, that this idler car is not the idler car seen at Bush Terminal / New York Dock (which had dropped sills and diagonal bracing).


To date, no photos of the X14 Idler Car as a main subject have been located, but can be seen in several photos from a distance. The best of these photos has been added to the Non Revenue Equipment Photos, where it is seen in use with Locomotive #22.


According to Joe Roborecky, during his employment tenure (1968-1983); he does not recall using the idler car during carfloat drilling operations, or even seeing this X14 idler car on BEDT property.


Author's Hypothesis:
Taking the above facts into consideration, it is apparent that this X14 Idler Car did not see use for very long at the beginning of diesel operations. It should be noted that the X14 Idler Car has not been seen in any photos taken during steam locomotive operations (prior to 1963). Therefore, the author believes that the X14 Idler Car was created and used when the diesel locomotives first began service with the BEDT in 1963. It is further hypothesized that the X14 Idler Car was used with the diesel locomotives and not with the steam locomotives, because the steam locomotives were lighter (64 tons) than the diesel locomotives (99 tons).


Therefore it might have been initially believed by BEDT operations management, that the additional weight of the diesel locomotives required the use of an idler car, to help keep the full weight of the diesel locomotive off the pontoon or floating end of the float bridge. As we will see in photos taken on later dates of the diesel locomotives and operating on the float bridges, they are clearly without the X14 Idler Car, and with the float bridges bearing the full weight of the diesel locomotives. The initial belief of the diesel locomotives being too heavy for the floating end of the float bridge apparently turned out to not to be the case, and use of the X14 Idler Car was discontinued.


Also to be considered however, is that Bush Terminal and subsequently New York Dock, utilized their #101 idler car with their heavy diesel locomotives (GE 80 ton #88 and #89 as well as the NYD ALCo RS3 #56 & 57 at 120 tons). While the GE 80 tonners were lighter than the BEDT S1 diesel locomotives, the RS3's were significantly heavier. Furthermore, it should also be taken into consideration that the BT / NYD #101 Idler Car had ballast weight added to it to assist in weighing down the pontoon end of the float bridge into the water, to better align the float bridge with carfloat.


So keeping this in mind, leaves us to wonder whether BEDT chose not to use an idler car for reasons of expense, train length, switching efficiency or additional labor; or whether the use of the BEDT Idler Car turned out to be unnecessary as the weight of the BEDT diesel locomotives did not adversely impact the float bridge / carfloat anchoring mechanisms (pins, winches, etc)...
.
.
Wood Tool / Storage Boxcar
Prior to an unknown date, but around the time of dieselization in 1963, a wood boxcar can been on the southern outdoor storage track of the enginehouse (where #11 would be stored and #10 scrapped). This wood boxcar can be seen in many photos of and in the vicinity of the enginehouse, and in pictures of #10 being scrapped.


While it can be seen in pictures of 1962 and prior, yard shots after May 1963 no longer show its presence. Currently, I do not know the disposition of this wood boxcar (most likely scrapped) and whether the "bicentennial" boxcar replaced it's position in service. All pictures I have encountered, show no markings or numbers on the wood boxcar.


As such, it is unknown to whom this boxcar was originally was built for or when. Therefore, information is invited.
.
.
Bicentennial Boxcar
One of the most photographed pieces of non-revenue equipment, is the steel "Bicentennial Boxcar". This boxcar, of steel construction; was white with thick blue vertical bands towards the outer ends of the car with the distinctive BEDT letters in red in vertical alignment in blue bands. It bore the years of the bicentennial anniversary 1776 and 1976 as well. In some photos it has been referred to BEDT #1776 or BEDT #1976, but it appears unlikely this was an assigned number. The boxcar was painted in this livery for the Bicentennial celebration of the United States in 1976 in preparation for Operation Sail, along with BEDT diesel locomotive #25, the tugboats Petro Flame and Petro Arrow, and Carfloat #25.


The Bicentennial Boxcar would survive until the New York Cross Harbor era of operations where according to Paul Strubeck a gravity fed fuel tank was installed for fueling locomotives operating in the Greenville Yard. It was last seen in front of float bridge #12 around 1997. Then mysteriously, it vanished without a trace. Its disposition is unknown, but it was most likely scrapped.


As with the wood boxcar, the original construction information and date is unknown for this boxcar, and for whom it originally was built for. Photographs of this boxcar freshly painted in the Bicentennial scheme show ripples and small dents in the car sides, so it is very unlikely the BEDT purchased this boxcar new. Strangely, the BEDT letters on the Bicentennial Boxcar would change in appearance over time; first appearing without, then with, a white outline.


This was eventually determined that one side of the boxcar would have the letters painted with a white outline, while the other side was without.
.
.
N5 Type Caboose
Located directly behind the BEDT enginehouse, sat a caboose. This caboose is of N5 type construction style.


This use of this caboose differed, according to various accounts and it has been attributed to the Master Mechanics office as well as the Yard Dispatchers office. It could have been both over its tenure at this location. Photos of this caboose (ca. 1972) show this caboose to be painted dark green with a black roof. Later photos (ca.1975) and after show this same caboose in red with a black roof. Following the closing of the BEDT property in 1983, this caboose disappeared.


In July of 2008, Paul Strubeck and myself visited Bush Terminal Yard. One of the main reasons for our visit, was to identify the blue caboose at that location, which had been used as a yard office. We were able to pick several paint chips off the blue paint, and were surprised to see first a red layer of paint and then a dark green under the red. Furthermore, modifications to the windows and body have led us to discover that the now disused New York Cross Harbor RR yard office is none other than the BEDT caboose!
Thanks to Ben Schaffer, we know now that this caboose was originally purchased by New York Dock with two others. This third caboose, which went to BEDT is understood to have suffered a minor fire. It is unknown if New York Dock ever used this caboose. If one takes notice, the caboose is first seen at BEDT in the same dark "New York Dock green" with black roof and yellow rungs as New York Dock caboose C58 at Bush Terminal.
In 1980, (following the BEDT / NYD merger in 1978), the caboose was removed from behind the BEDT enginehouse and sent to Bush Terminal enginehouse where it was repainted green with large triangle NYD logo. It was then moved to the First Avenue entrance gate at the Brooklyn Army Terminal and used as an office for the Trailer on Flatcar (TOFC) operation. Upon cessation of this service, caboose was then moved to the back or south end of Brooklyn Army Terminal property at the south end of the buildings. Circa 1986 New York Cross Harbor painted out the NYD logo with green paint and moved the caboose to south side of 65th Street Yard.
It would be subsequently moved again to Bush Terminal enginehouse, repainted blue and Cross Harbor herald (type two) on one side only (facing First Avenue) and moved to Greenville to be used as office for TOFC bogie operation. Moved back to Bush Terminal following cessation of bogie operation and unused. The FBI used the caboose for an undercover sting operation circa 1992. On 6/5/1993, the caboose was used on a railfan day photo shoot at end of train. In 1994, made into office for Safety Kleen Corp. Porch and bar-b-que pit believed to have been added at this time. Used until ca. 1996 and vacated. Currently stored at Bush Terminal on and property of New York New Jersey Rail.
---
DERRICK / CRANE CAR - X11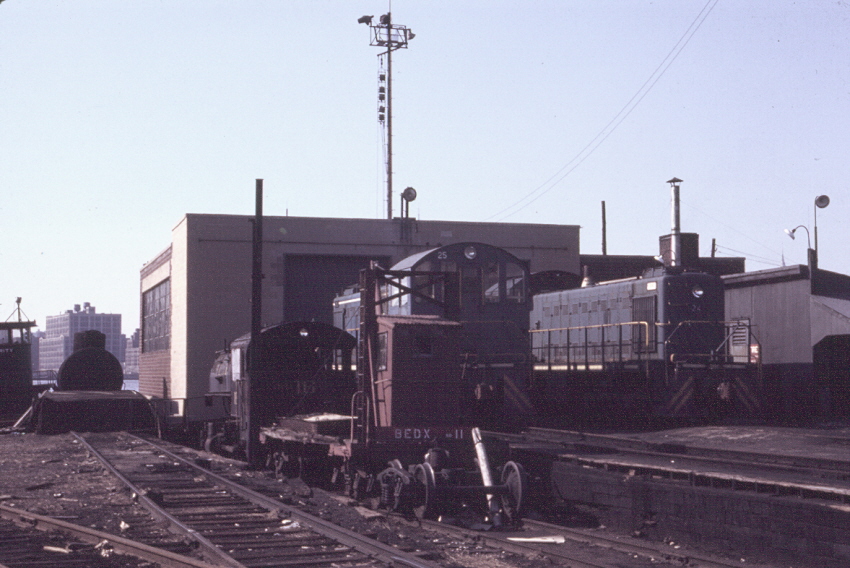 X11- April 6, 1969
With Integrity, #16 (out of service), #25 and #24.
unknown photographer
authors collection
added 06 March 2012
.
.

.
.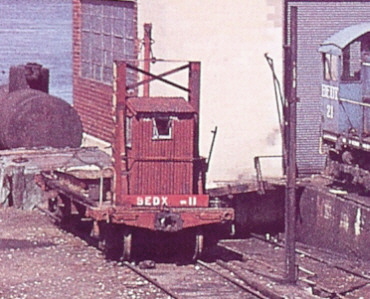 X11 - March 1972
F. Szachacz photo
.
.

.
.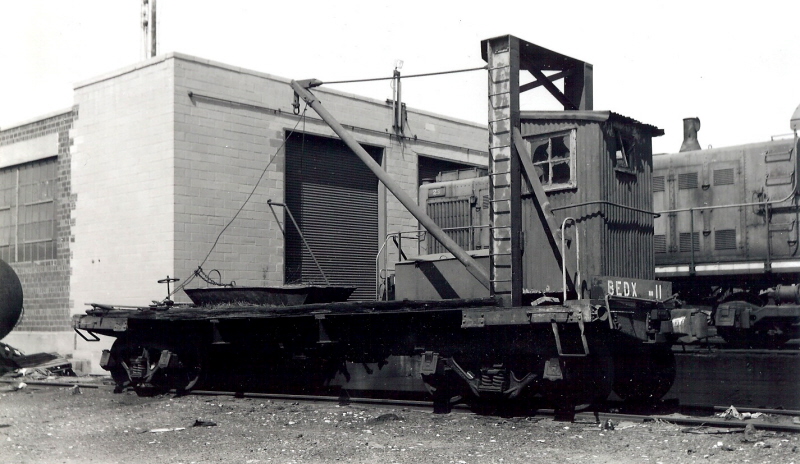 X11 - September 7, 1973
G. Votava photo
D. Keller archives
authors collection
.
.

.
.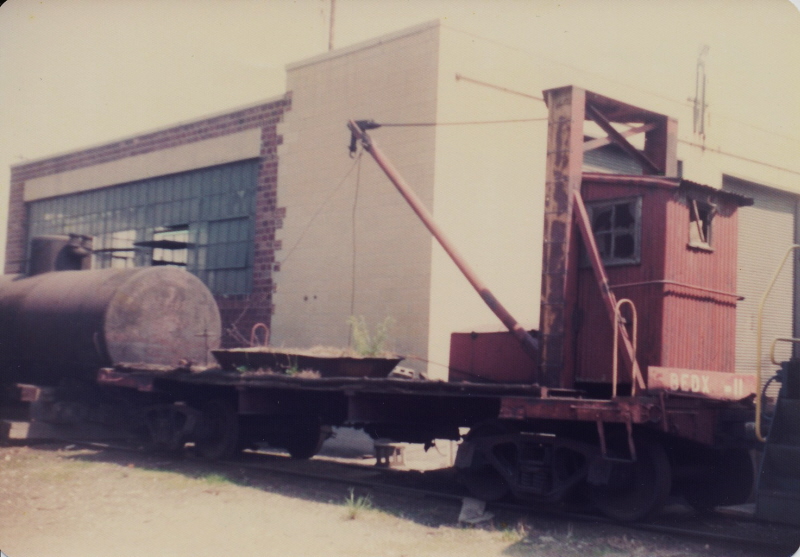 X11 - unknown date
J. Hurley photo
J. Hurley archives
added 24 Oct 2009
.
.

---
.
BUNKER C / FUEL OIL STORAGE TANK CARS - X6, X7, X11, X12
(& UNKNOWNS)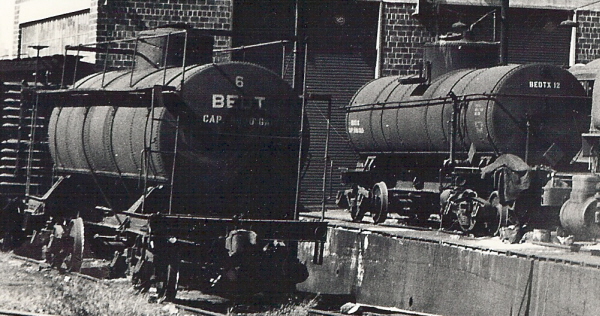 X6 & X12 - unknown date (pre-1958)
(no sign of #11 waiting to be scrapped, wood boxcar still on property, #15 & 16 have round bottom tanks)
added 23 Apr 2009
.
.

.
.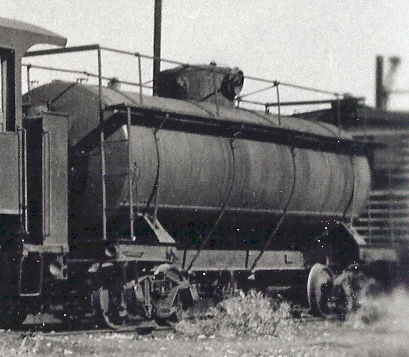 X6 Sept 19, 1959
.
.

.
.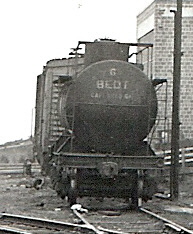 X6 - February 19, 1961
.
.

.
.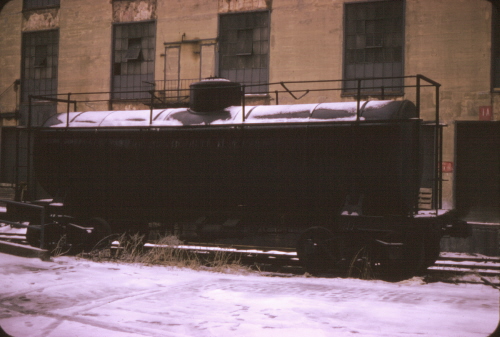 X6 - March 1963 - east end of 9A5 at Kent Avenue
A. Bink photo
authors collection
added 14 Oct 2008
.
.

.
.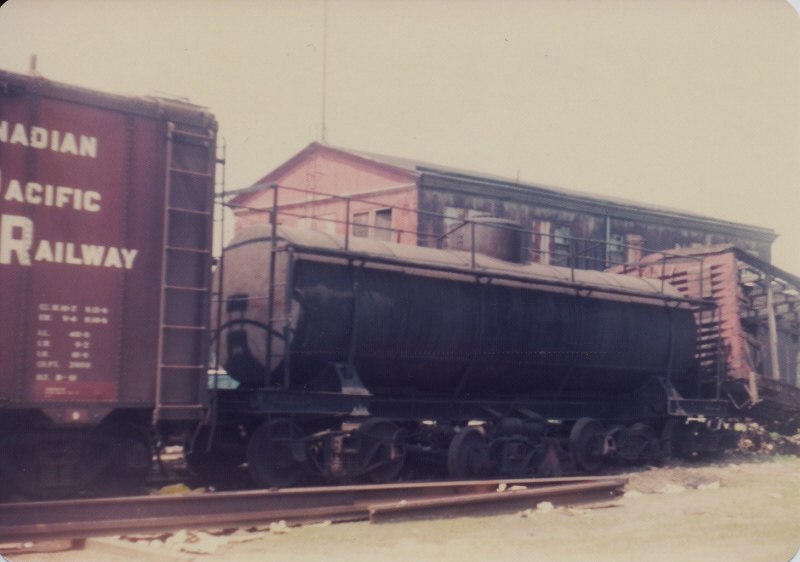 X6 - unknown date - 5A1
Note the boxcar to right. Thats the wood tool car being scrapped. PRR North 4th Street Freight Station behind cars.
J. Hurley photo
J. Hurley archives
added 24 Oct 2009
.
.
.
.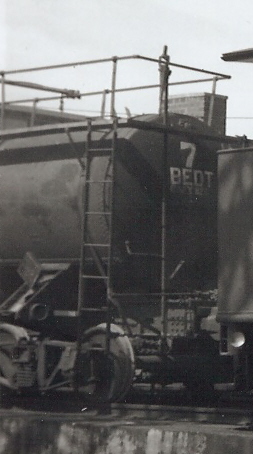 X7 - no date (pre-1941)
(#10 with old logo on enginehouse track)
rescanned 23 Apr 2009
.
.

.
.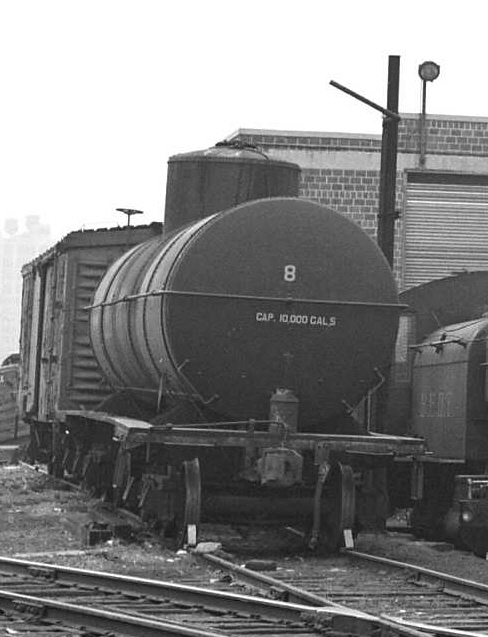 X8 - ca. 1958
Note the milk can.
added 29 January 2010
.
.

.
.
.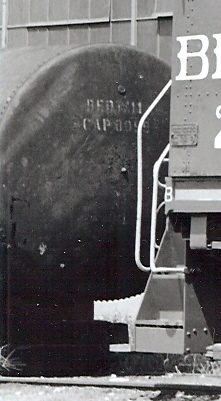 .
X11 - no date (ca. 1963)
(#23 freshly painted, enginehouse not extended yet)
added 23 Apr 2009
.
.
.
.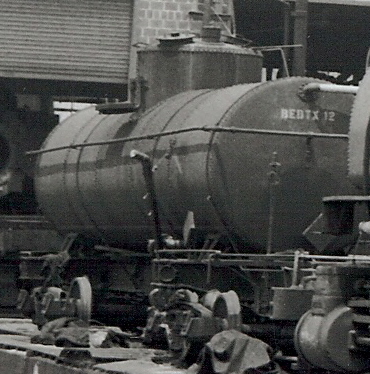 X12 - June 24, 1961
added 23 Apr 2009
.
.

.
.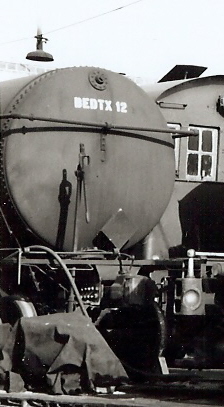 X12 - unknown date - (pre-1958)
(#11 still in service)
added 23 Apr 2009
.
.

.
.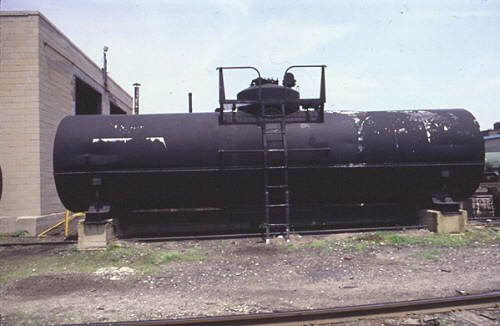 permanent fuel bunker - July 1981
S. Goldstein photo
authors collection
.
.

.
.

permanent fuel bunker (believed to be X11) - July 1981
S. Goldstein photo
authors collection
.
.

---
.
IDLER CAR - X14 (MODIFIED GONDOLA)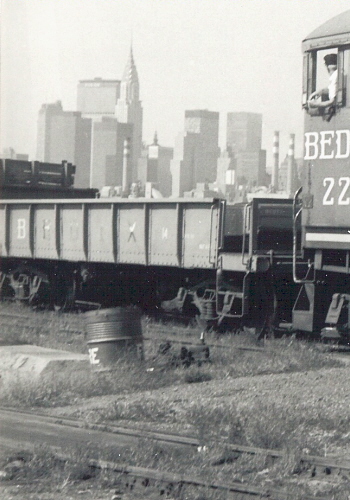 X14 - August 30, 1965
unknown photographer
D. Keller archives
authors collection
added 19 Nov 2008
.
.

.
.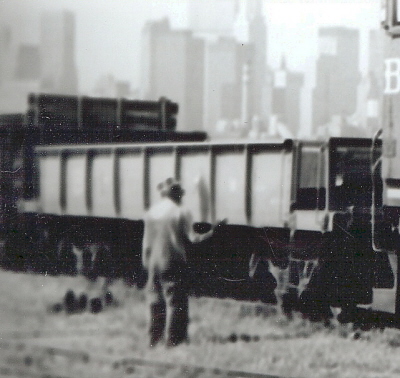 X14 - August 30, 1965
unknown photographer
D. Keller archives
authors collection
added 23 Apr 2009
---
TOOL CAR - (WOOD BOXCAR)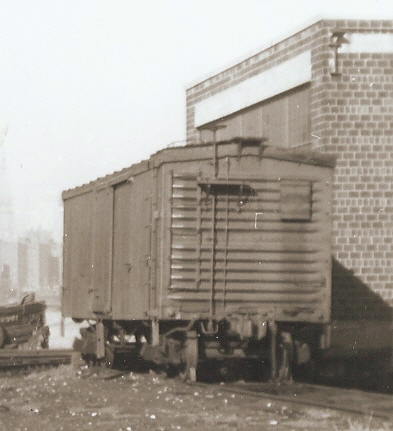 December 30, 1958
.
.

.
.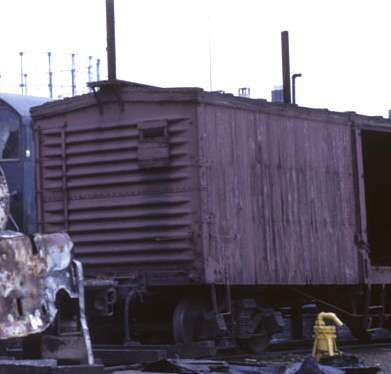 July 1963
.
.

---
.
BICENTENNIAL CAR - (STEEL BOXCAR)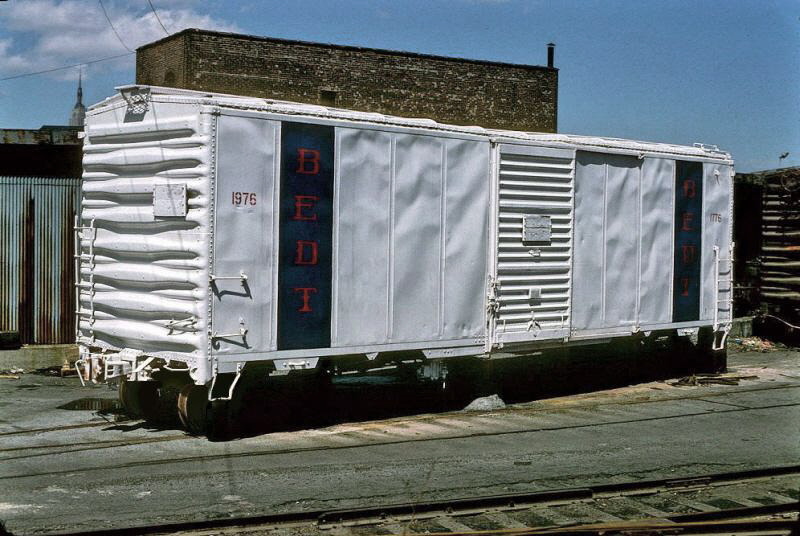 1776-1976 Bicentennial Box Car - ca.1976
Note no outline on letters.
unknown photographer
authors collection
added 04 January 2010
.
.

.
.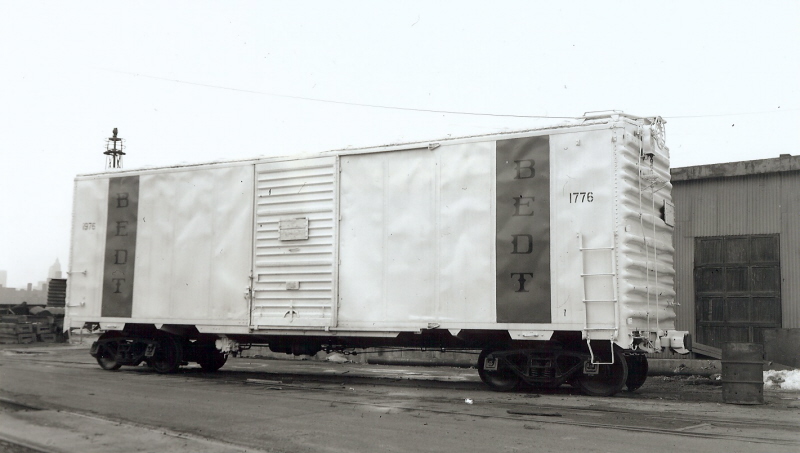 1776-1976 Bicentennial Box Car - February 12, 1977
Note no outline on letters.
Bob's Photo archives
authors collection
.
.

.
.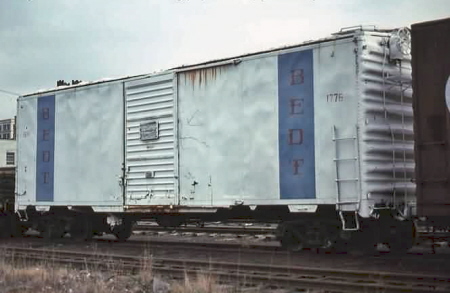 1776-1976 Bicentennial Box Car - unknown date
Note no outline on letters.
unknown photographer
D. Ross collection
.
.

.
.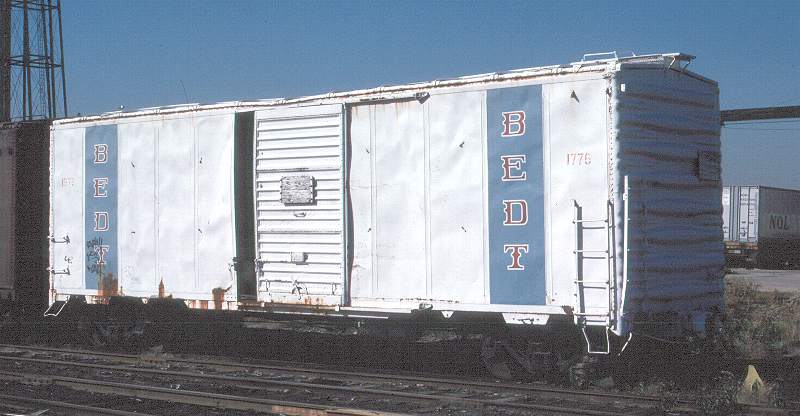 1776-1976 Bicentennial Box Car - unknown date - Bush Terminal?
Note white outline on letters.
K. Geary photo
G. Stuebben collection

.

.
.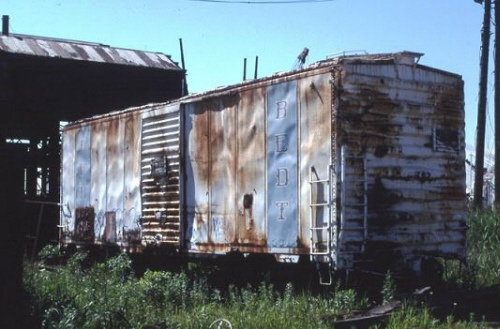 1997 - Greenville, NJ
J. McClusky photo
Thanks to a keen eye on the part of Paul Strubeck,
he has discovered that the white outline was applied to the letters only on one side!
The letters on the other side lacked the white outline as seen in the photo below: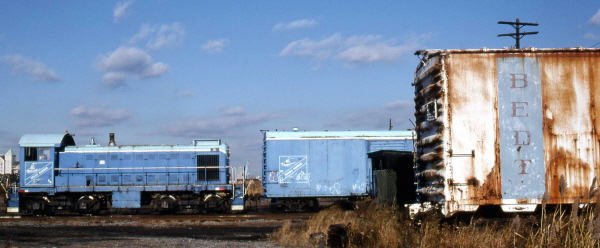 November 17, 1997 - Greenville, NJ
C. Perelman photo
P. F. Strubeck collection
added 03 Mar 2009
.
.

---
.
N5 TYPE CABOOSE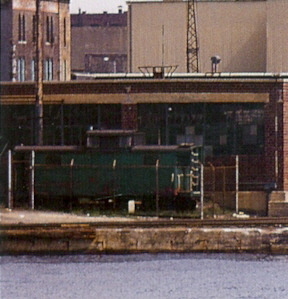 1972
T. Flagg photo
.
.

.
.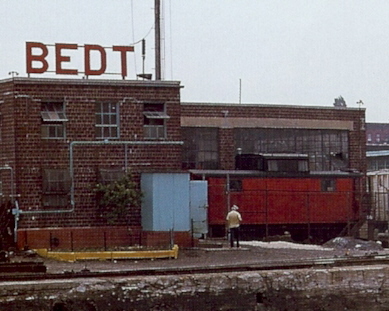 1975
J. Held photo
.
.

.
.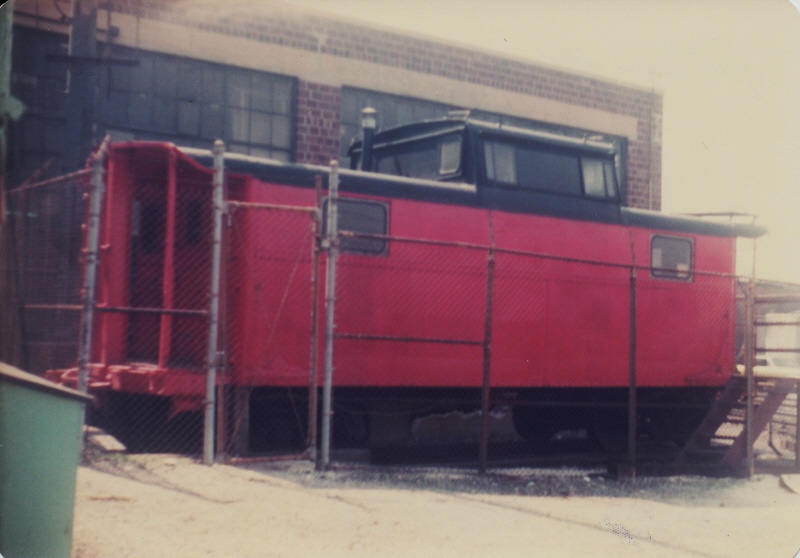 unknown date
J. Hurley photo
J. Hurley archives
added 24 Oct 2009
.
.
.
.

viewing
Non Revenue Equipment

.
---