MILITARY RAILROADS
OF THE NEW YORK METROPOLITAN AREA:

FORT HAMILTON
Brooklyn, NY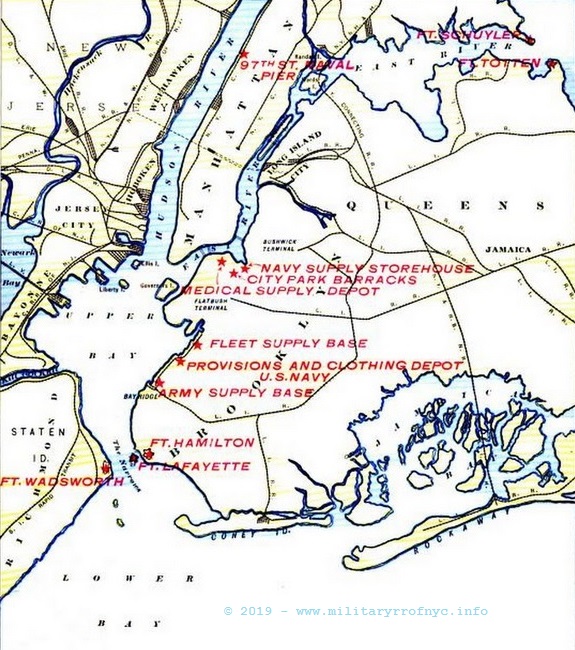 ...



---
Before we progress any further, it bears mentioning that this websites intent is to primarily focus upon the railroad aspect and history of the location. This will undoubtedly have the unfortunate side effect of not discussing a significant amount of historical detail pertaining to the overall location; so I strongly urge those interested readers to visit the:
.
That website covers the coastal defense locations throughout the United States with a detailed history, along with hundreds of plans, blueprints, specifications for both general construction and armaments at those locations,
and in such detail that I could not even begin to reiterate here on my website without originality and duplication.
.
.
Fort Hamilton is located at the entrance to the Verrazzano Narrows, overlooking Lower New York Bay; and out of all the other Forts mentioned here, Fort Hamilton is the only one still active (albeit as headquarters to several commands, not as an artillery base).
Military presence at this location dates back to the Revolutionary War. On 04 July 1776, a small American battery: Narrows Fort shelled the British man of war "HMS Asia"; which was convoying troops to suppress the American uprising. The Asia suffered damage and casualties, but opposition to the large British fleet was little more than symbolic.
Following the conclusion of the War of 1812, the importance of coastal defense was realized as well as provided the impetus to constructing coastal forts on the Atlantic Coast. These new forts would include Fort Hamilton.
The cornerstone for Fort Hamilton was set in place by its designer, Simon Bernard, on 11 June 1825. Bernard was previously a French military engineer who served under Napoleon Bonaparte, and Bernard joined the United States Army after Napoleon's defeat in 1815. Initial construction of Fort Hamilton cost over $500,000 dollars and took six years to complete.
Several famous American military personnel were stationed here, those being: Captain Robert E. Lee; who would serve as post engineer 1841-1846, and Thomas "Stonewall" Jackson, and Abner Doubleday who would be Post Commander in 1861.
Fort Hamilton worked in cooperation with Forts Wadsworth, Tilden and Hancock in the coastal artillery defense of the entrance to New York Bay: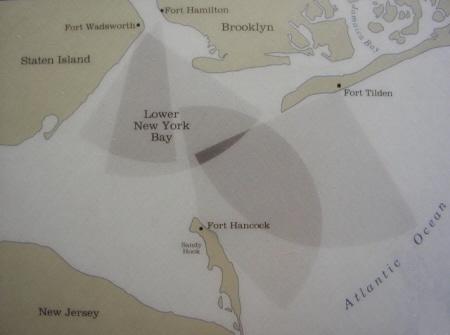 .
Like most other military installations mentioned having locomotives here, nothing can be found regarding a railway on the premises.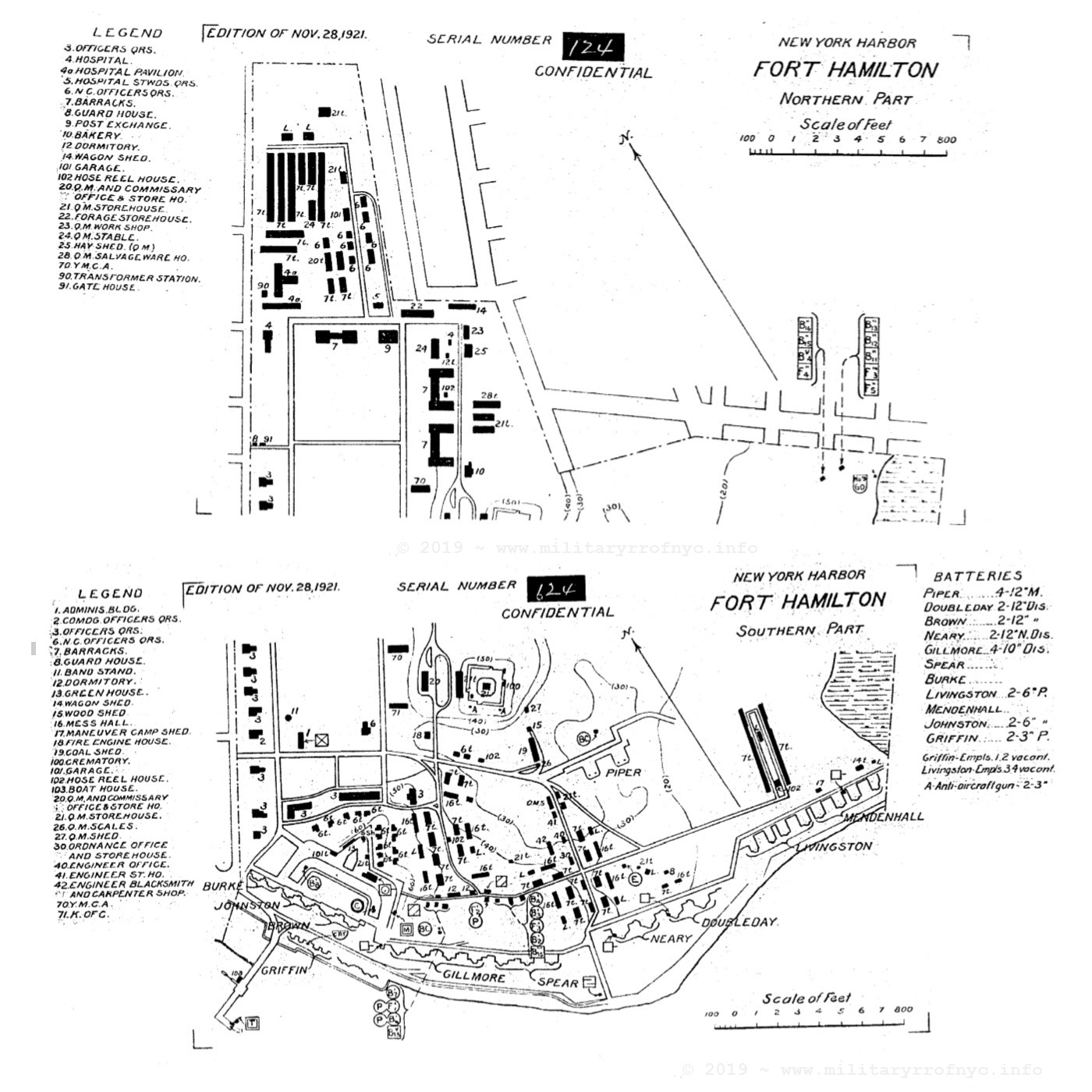 maps from the website of the
Coastal Defense Study Group
originals reside in the National Archives.
The legend for symbols used on the above map be viewed here: 1920 Series Confidential Maps Symbols & Abbreviations.
added 14 May 2019
added 14 May 2019

.
.
Referencing the 1921 series of Fort Maps fails to show any recognizable notations regarding the use of a railway. The railway may have been used in a similar capacity as with Fort Wadsworth and the "torpedo" (electric mine) cable stretched across the channel to thwart invasion; or the railway may have simply been used to transport shells and powder.
The only confirmation we have of a railway is the entry of of a locomotive in the H. K. Porter locomotive builders records showing a locomotive was delivered "care of G. W. Kuehule, assistant engineer, Fort Hamilton". This entry is unusual in the fact that the Fort Hamilton locomotive was of 0-4-2 wheel arrangement, while most other military engines listed on this website were of 0-4-0 wheel arrangement.
The author is left wondering why the need for a trailing pony truck.
.
..
Fort Hamilton Steam Locomotive Roster

builder

c/n
build
date

gauge
wheel
arrangement
wheel
dia

cylinders

acquired

number / name

disposition

notes
ref
H. K. Porter
1986
3/1899
36"
0-4-2
7" x 12"
new
c/o G. W Kuehule
Asst. Eng.
[3]
---
Index:
.
---