MILITARY RAILROADS
OF THE NEW YORK METROPOLITAN AREA:


FORT WADSWORTH
Staten Island, NY
..
updated:
FRIDAY, 03 MAY 2019 - 00:05

---

page expanded

03 May 2019
.
..
.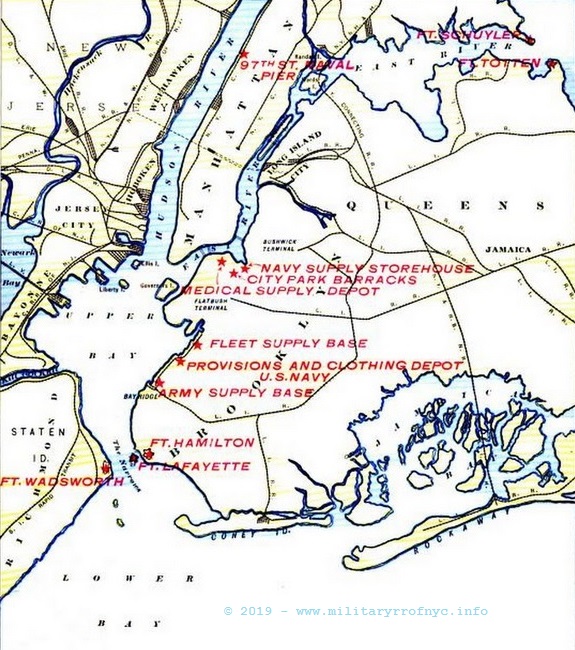 .


---
Before we progress any further, it bears mentioning that this websites intent is to primarily focus upon the railroad aspect and history of the location. This will undoubtedly have the unfortunate side effect of not discussing a significant amount of historical detail pertaining to the overall location; so I strongly urge those interested readers to visit the:
.
That website covers the coastal defense locations throughout the United States with a detailed history, along with hundreds of plans, blueprints, specifications for both general construction and armaments at those locations,
and in such detail that I could not even begin to reiterate here on my website without originality and duplication.
.
.
---
.
Fort Wadsworth (named so in 1865) is located at the eastern tip of Staten Island over looking Fort Hamilton to the east and New York Harbor to the north. This property has been a military reservation in many names and served many purposes since it's creation in 1626.
Fort Wadsworth worked in combination with Forts Hamilton, Tilden and Hancock in the coastal defense of Lower New York Bay.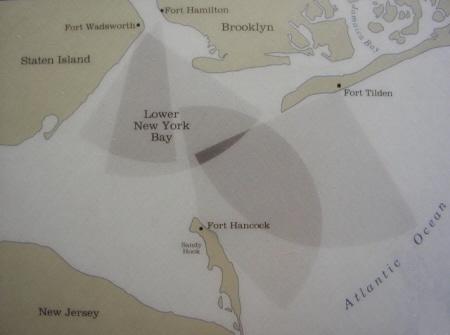 .
A very comprehensive history of Fort Wadsworth may be read here:

.
.
Apparently, there was some concern with the Richmond Trolley operating close to Fort Wadsworth and the newly installed 10" disappearing mount guns. This would possibly allow foreign agent to photograph the new armaments and of course, that just would not do.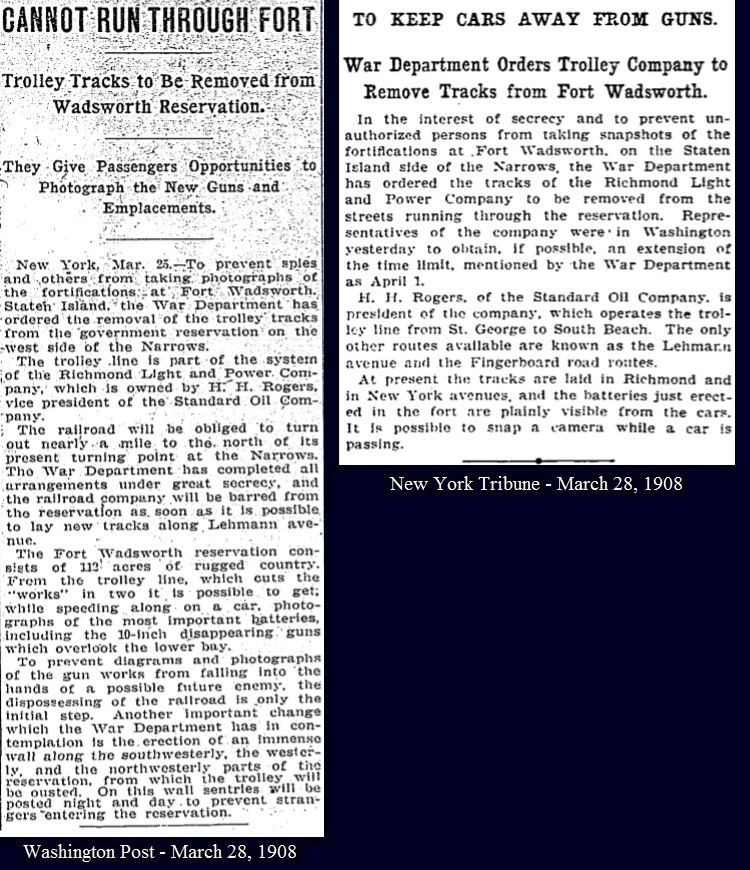 courtesy of Dan Meharg; Education Specialist / Park Ranger
Gateway National Recreation Area
added 02 May 2019
.
.
With utmost apologies to Bill Wall, who sent me an email in 2016, and here I am in 2019 just getting around to adding the material to the page!

You may want to take a trip down to Fort Wadsworth and see the remains of the fort railway system.
The torpedo shed is the building marked TS on the map (marked Fort Wadsworth Plan).
What we now call mines are what they referred to as torpedos when installed, mines that were electrically exploded from on shore.
You can actually walk there and the entire layout can be seen from above. Fantastic views of the harbor. There is more information on Fort Wadsworth,
including on how they refused the SIRT a right of way, on line. Regarding Fort Hamilton, the most likely had something similar in terms of a small railway
to move things about the base and to the dock they had as well. Your sites are great! Bill Wall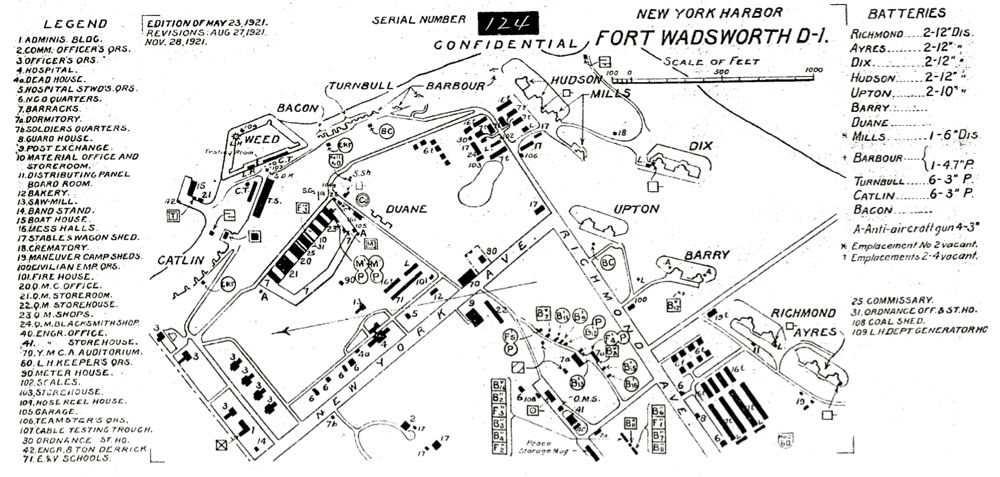 maps from the website of the
Coastal Defense Study Group
originals reside in the National Archives.
The legend for symbols used on the above map be viewed here: 1920 Series Confidential Maps Symbols & Abbreviations.
added 14 May 2019
.

.


Fort Wadsworth - unknown date
Note the tracks coming out of Battery Weed (top left) and running along the contour of shore line as well as down to bottom left. Compare with annotated version further below.
courtesy of Bill Wall
added 02 May 2019
.
.
.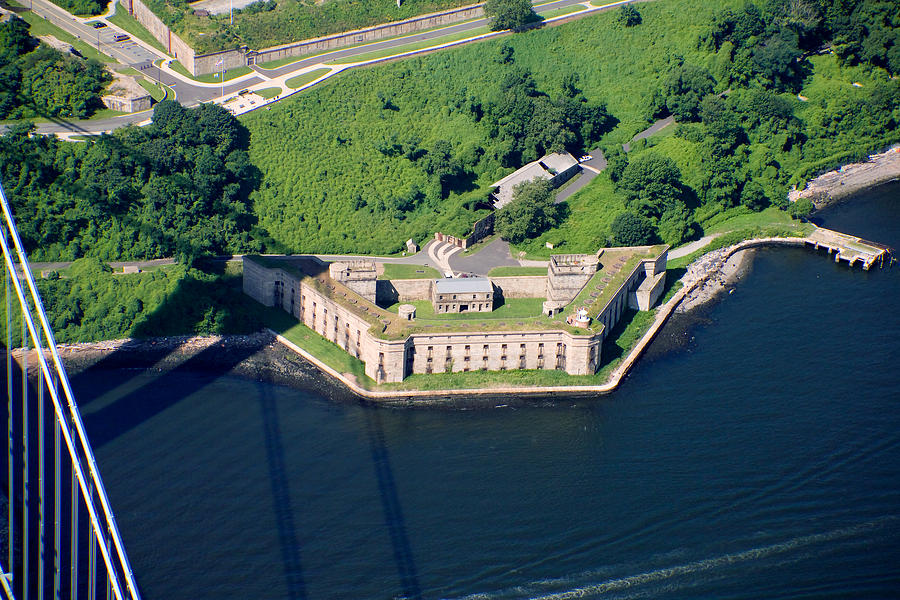 Fort Wadsworth - unknown date
courtesy of Bill Wall
added 02 May 2019
.

.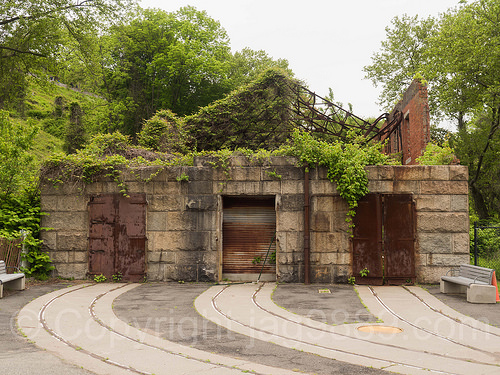 Fort Wadsworth Torpedo Shed - unknown date
courtesy of Bill Wall
added 02 May 2019
.

.
At the current time, we do not know the true extent of the railway or its exact configuration as constructed at Fort Wadsworth. It appears to be a simple affair, linking Battery Weed with the Torpedo Shed, the Cable Storage Building and the Torpedo Dock.
If my understanding is correct, and to expand on Bill Walls' explanation the "torpedoes" were actually electrically controlled mines, affixed to cables that was towed by boats across the Narrows to prevent enemy ships from entering Upper New York Harbor. The mines were not left in the water full time, and were only strung during times of high alert.
The cable would be brought by locomotive into the torpedo shed, where the mines would be affixed, then the cable with mines towed by locomotive to the Torpedo Dock (whick had a track running upon it to the outshore end where boats would continue across the water with the cable. Please note, at this time, this is conjecture and nothing has been located to confirm this operation.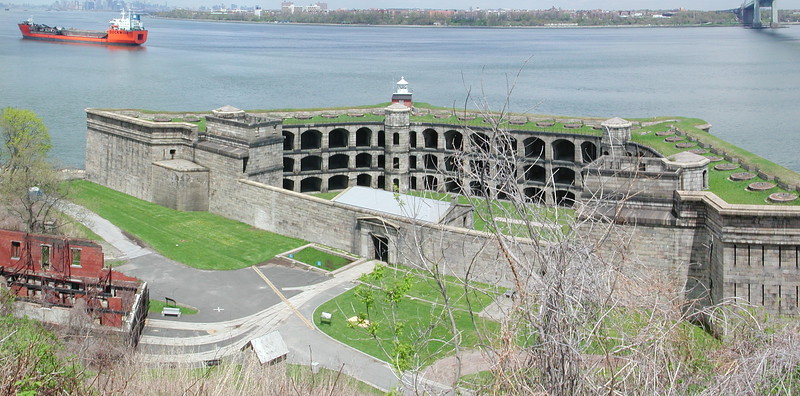 .




Fort Wadsworth - unknown date
Trackage noted in yellow by author. Torpedo Dock out of view to left.
added 02 May 2019
.
.
..
Fort Wadsworth Steam Locomotive Roster

builder

c/n
build
date

gauge
wheel
arrangement
wheel
dia

cylinders

acquired

number / name

disposition

notes
ref
H. K. Porter
1887
8/1898
36"
0-4-0
9" x 14"
new
#1
c/o Major H. M. Adams, Ft. Wadsworth
[3]
---
Index:
.
---