ERIE RAILROAD
#2600, #2601 & #2602

L1 Class - "Angus Type"

American Locomotive Works - 1907
Schenectady, New York

0-8-8-0 Articulated Camelbacks

updated:
31 October 2016 - Happy Halloween! - postcards added

---
.
Simply put: I also collect anything in reference to the Erie Railroad L1 Class Locomotives #2600, 2601 & 2602:
.

Erie Railroad - L1 Class #2600
"Angus type"
AMERICAN LOCOMOTIVE WORKS
BUILDERS PHOTO - 1907
Specifications
| | | | | |
| --- | --- | --- | --- | --- |
| road: | Erie | | cylinders (front): | 39" d x 28" s (simple) |
| class: | L-1 | | cylinders (rear): | 25" d x 28" s (compound) |
| wheel arrangement: | 0-8-8-0 (articulated) | . . | driver diameter: | 51" |
| builder: | American Locomotive Co (Schenectady, NY) | | boiler diameter (min): | 84" |
| date built: | July 1907 | | steam pressure: | 215 p.s.i. |
| number built: | three | | grate area: | 100 sq. ft. |
| construction numbers: | 42269, 42270, 42271 | | heating surface (total): | 5313.6 sq. ft. |
| road numbers: | 2600, 2601, 2602 | | weight (on drivers): | 410,000 lbs. |
| rebuilt (by Baldwin, 1921): | to 2-8-8-2 | | weight (total): | 410,000 lbs. |
| scrapped: | December 1930 | | tractive force: | 94,070 lbs. |
I have always been fond of camelback type locomotives and of all the types built, my favorite are the three articulated 0-8-8-0 type constructed by American Locomotive Works (Schenectady, NY) for the Erie Railroad; with a close second being the St. Clair Tunnel 0-10-0 side tank Camelback.
At the time of their construction in 1907 and for several years of operation, these Erie L1 Class engines were the largest steam locomotives built. Furthermore, the L1 class were the only Articulated Camelback steam locomotives ever built.
They were designed for and assigned to pusher service over the Gulf Summit grade and Susquehanna Hill, which includes the famed Starrucca Viaduct on the New York - Pennsylvania border, and the line was Erie's "Susquehanna Division". The 0-8-8-0's pretty much never ventured east of Port Jervis, New York or Susquehanna, Pennsylvania on the west.

Some readers may not know the reason for the cab astride the boiler arrangement of Camelback locomotives, so here is a quick explanation: necessity dictated the cab be located on the center of the boiler instead of on the rear as normal, and this was due to the availability of anthracite culm (fine grained waste) coal in the Eastern United States.

As anthracite coal was harder than bituminous (soft) coal, and by taking longer to burn, locomotives using anthracite therefore needed more "grate area" to sufficiently "fire" (generate steam) in the locomotive. As a result, John E. Wootten designed a firebox that was larger and wider than normal to burn this culm. But, this oversized "Wootten" firebox took up most if not all of the space on the rear of the boiler or "backhead" where the cab was normally placed.
Another issue resulting from the Wooten firebox was weight. Larger meant heavier. However, successful trailing trucks had not been perfected at the time the Wootten firebox was developed, which is why Camelbacks are predominantly seen in wheel arrangements without trailing trucks, and where the driving wheels could carry the full weight of the Wootten firebox. These wheel arrangement were comprised of but not limited to those listed (and there were camelback locomotives with trailing trucks):
0-4-0 and

0-6-0 switchers;

0-8-0 and

0-10-0 transfer engines;
as well as

2-6-0 (Mogul),

4-6-0 (Ten-Wheeler),

2-8-0 (Consolidation),

4-8-0 (Twelve-Wheeler or Mastodon) road engines.
.
So as a result, the cab was relocated to middle of the boiler. Such locomotives became known as "Camelbacks" or "Mother Hubbards". The designed worked very well for many of the railroads located in the eastern "hard coal country" of the United States such as the few that come to mind. There were many others and by no means should this be considered a complete list:
Erie

Central of New Jersey

Lehigh Valley

Delaware, Lackawanna & Western

New York, Ontario & Western

Philadelphia & Reading

.
However, despite being a successful design, there were downsides to the camelback. With the engineers controls & cab being located to the middle of the boiler, this separated the engineer from the fireman at the rear. Even when automatic stokers were available, the fireman was still separated from the engineer on the other side of the boiler. This prevented regular communication between the engineer & fireman which was inconvenient to say the least.
That was a minor inconvenience when compared to "broken rod" accidents. There were several cases where a main rod broke loose of its journal on high speed passenger locomotives, and as this rod began flailing about it literally sideswiped the cab off that side of the locomotive, usually taking the engineer or fireman with it. These rod failures also happened on conventional rear cab locomotives but as the rods were forward of the cab, the crew was unaffected and in a safer position.
Needless to say, these rod failures on camelback locomotive were very dramatic, and this resulted in the trend away from and eventual legislation by the Interstate Commerce Commission against camelbacks. Exceptions were made to finish those already under construction, but new construction of a camelback type locomotive was outlawed completely in 1927, with many of those already existing being converted to or replaced by new rear cab models.
It should be noted that the Erie 0-8-8-0's were pusher locomotives and never operated over 30 mph. As result, they were not subject to the high speed stresses incurred by fast passenger camelback locomotives were, and therefore never had a rod failure / cab swipe incident during their career. Eventually, ways were devised to mount cabs to the rear of the oversized firebox, and with the advent of diesel-electric locomotives, did away with steam power altogether.
Returning to the subject at hand, the three Erie 0-8-8-0 locomotives here were originally hand fired (meaning a fireman had to hand shovel coal into the firebox). It should be noted these locomotives has 100 square feet of grate area, yet all records to date indicate they were fired by a single fireman, yet the locomotives were equipped with two doors on the backhead.
Several tests conducted of the locomotives showed they were successful in some areas and inconclusive results in others (read detail below). In 1921, Baldwin Locomotive Works was contracted to rebuild these three L-1 class locomotives into rear cab 2-8-8-2. Upon this rebuilding, the locomotives were equipped with superheaters, automatic stokers and feedwater heaters to make them more efficient. But, just nine years later, all three of these behemoths would be scrapped.
During their lives these big locomotives made their mark on the memory of railroading. So with the exception of postcards and litho prints which I collect as they present themselves, there is not much in the way of memorabilia for these engines.
In the pursuit of history, a very nice history concerning the construction and reconstruction of these locomotives is contained in the 1970 book: "Erie Power" by Fred Westing & Alvin Stauffer. For the sake of thoroughness, I have scanned and reproduced the pages here for reference, but I highly recommending purchasing a copy of the book.
Erie L1 Memorabilia
Art, Advertising, Postcards & Pictures

unknown publisher, unknown date

.


M. F. Kotowski - 1986

.


Burton, Pub'r, Lanesboro, PA
divided back
postally unused


No. 2600 Art Tone Series by C. D. Burton, Lanesboro, PA
divided back - printed in Germany
postmarked Susquehanna, PA - 2 PM - July 21, 1910

.


no publisher info
divided back
postally unused


AZO
rppc - divided back
postmarked Union Grove, NY - October 15, 1907

.


Herald Post Cards, Hallstead, PA
divided back
postally unused


Baker Brothers Elmira, N.Y. #2123
divided back - printed in Germany
postally unused

.


Hugh C. Leighton, Portland, ME #27053
Made in Germany
divided back
postally unused


Leighton & Valentine Co, N. Y. City. #204840
Printing in United States
divided back
postally unused

.


AZO Real Photo Post Card
divided back
postally unused


The Valentine & Sons Publishing Co, Ltd. New York
printed in Great Britain
divided back
postmarked Matamoras, PA - August 19, 1910

.


#2601 - Port Jervis, June 1911

.


#2602 - unknown date, unknown location, unknown photographer
"American Locomotives"
by E. P. Alexander, (Bonanza Books, 1950)

.


#2601 - unknown date (assumed to be ca. 1921) - Baldwin Locomotive Co, Eddystone, PA
Note that the main rods are removed and the head & backup lights have been changed from kerosene to electric and repositioned.
unknown photographer
added 31 August 2014

.


#2602 - unknown date (assumed to be ca. 1921) - Baldwin Locomotive Co, Eddystone, PA
Note that the main rods are removed and the head and backup lights have been changed from kerosene to electric and repositioned.
unknown photographer
added 31 August 2014

.


American Locomotive Works
erecting drawing

.


unknown publication
If any reader knows what publication this is from, please let me know at bedt14@aol.com

.


from The National Geographic Magazine
October 1909 - Vol... XX, No. 10
courtesy of J. Wanzyck
added 13 January 2013
.
.
The following are the applicable pages pertaining to the Erie L1 class locomotive as published in "Erie Power" by Fred Westing & Alvin F. Stauffer (Stauffer Publishing, 1970). The text on the last few pages pertain to the other Erie Mallets and the Erie Triplex 2-8-8-8-2 "Matt H. Shay", but the images are of the Erie L1 both as built and and as reconstructed by Baldwin Locomotive Works.
.

"Erie Power" - pages 198-208
by Fred Westing & Alvin F. Stauffer
(Stauffer Publishing, 1970)
added 13 January 2013
---
Modelling
.
There have been many commercially produced scale models of this class of locomotive in both HO and O (3 rail) Scale:

| | | | | | | | |
| --- | --- | --- | --- | --- | --- | --- | --- |
| distributor | manufacturer | item number | scale | material | issue era | prices seen | notes |
| Overland | Ajin Precision | OMI 1548.1 | HO | brass | | $3500 | |
| NJ Custom Brass | Daiyoung | 222 / ST 227 | HO | brass | ca. 1970's? | $1750 - 1995 | |
| | | | | | | | |
| Sunset / 3rd Rail Models | (Korea) | | O (3 rail) | brass | 2001 | $899-1400 | only 170 issued |
| MTH - (Russian Iron) #2601 | (China) | 20-3118-1 | O (3 rail) | die cast | 2005 | $1300 | locomotive only |
| MTH - (Russian Iron) #2602 | (China) | 20-3441-1 | O | die cast | 2005 | $1399 | locomotive, 5 hoppers & caboose set |
| MTH - (Black) #2601 | (China) | 20-3442-1 | O | die cast | 2005 | $1399 | locomotive, 5 hoppers & caboose set |
.
(And if anyone out there has a non-operating, damaged, or burned out HO and / or O scale model they are willing to sell, please email me.
All I desire are models for static display.)
But alas, all of these are cost prohibitive for a casual modeller like myself to own. The brass models run in excess of $700, and the O scale in excess of $1400 retail.

So, I scratchbuilt my own. I am not the first, as an article by Bill Schopp in the February 1955 issue if Railroad Model Craftsman shows: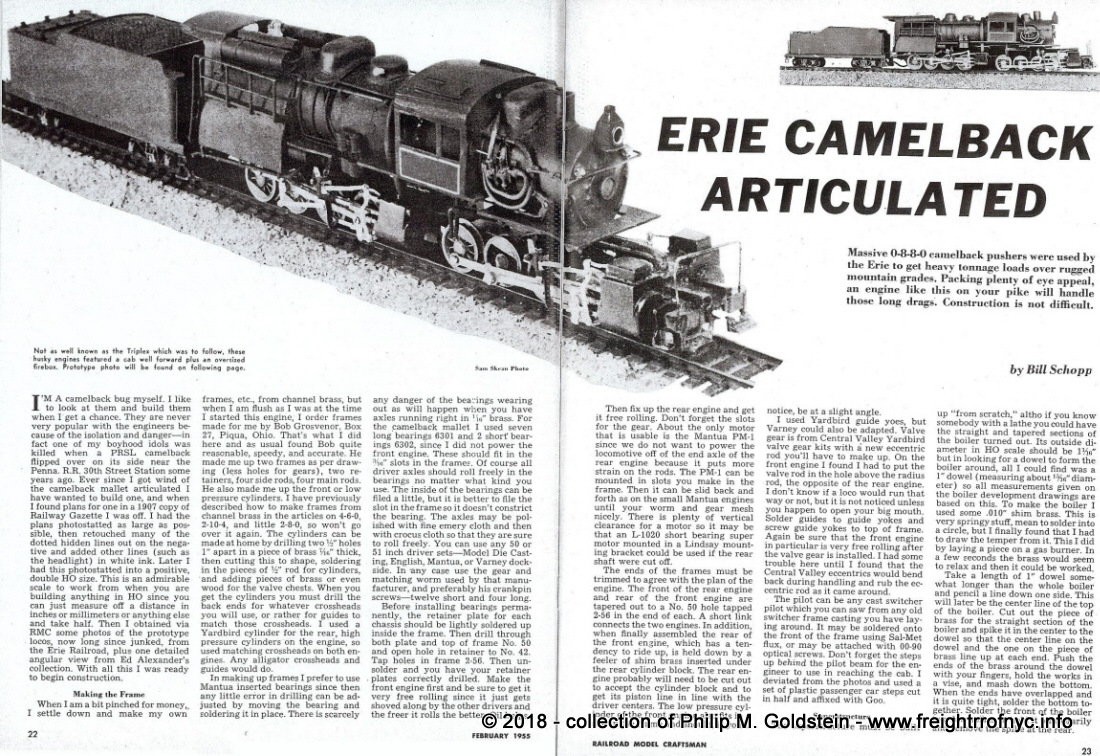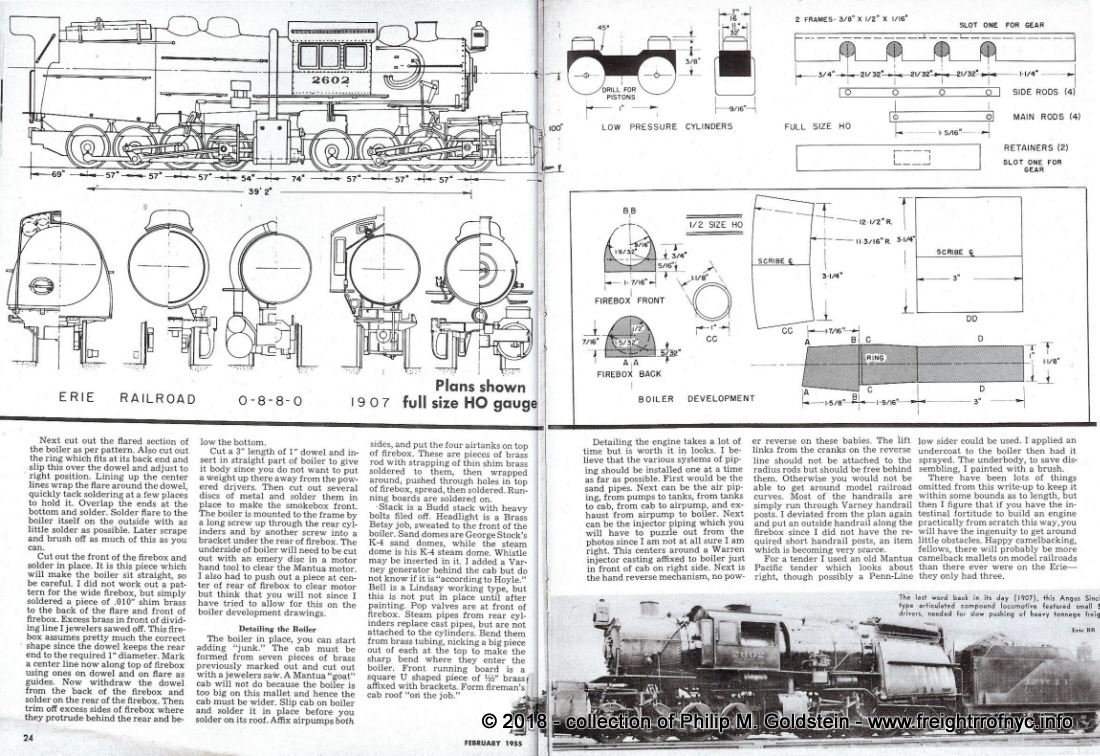 February 1955 - Railroad Model Craftsman (Carstens Publishing)
courtesy of J. Wanzyck
added 13 January 2013
This was my third attempt at scratchbuilding any locomotive in any scale. My first scratchbuilding attempt being a non-prototype RS2 short hood shop switcher, my second being a 0-6-0T BEDT #16 in HO scale (requiring a scratchbuilt saddletank) and I already had modified ready-to-run locomotives into either BEDT #14 and #15 or converted a rear cab PRR locomotive to a Camelback 4-4-2 Atlantic.
While I am particularly critical of my own creations (I have no patience painting, but will spend hours custom fabricating or modifying frames), I am quite proud of this attempt.

.
The locomotive started as an undecorated Mantua HO scale 2-6-6-2 logging loco (catalog #334) and the tender is from the Mantua 4-4-2 #460 "Lindbergh Special" (catalog #460) or PRR #7002 (catalog #336) locomotives (as well as used by other locomotives in the catalog). This tender closely conforms to the silhouette of the tenders used on the L1's.
I purchased super-detailing parts (valves, boiler plugs, handrail standoffs from various venders in Walthers Catalog and through local fellow modeller Frank Bell as well as Mantua. Frank was also generous enough to lend me his copy of Al Staufer's "Erie Power", and somewhere along the line I had located and acquired HO scale drawings of the Erie L1 class in one of the railroad modeller magazines. At the time, I did not know they were from the February 1955 issue of Railroad Model Craftsman (Carstens Publishing)... Now I do!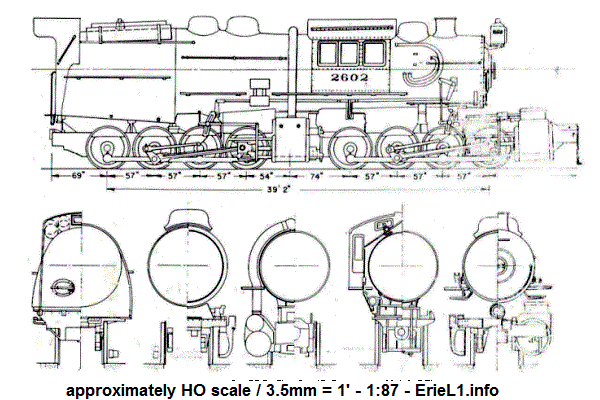 .
The cab is an "as molded" from Mantua as are the domes and front headlight (which I know is incorrect). Front cylinders are Mantua castings from the 2-6-6-2T Booth Kelly logger, (catalog #326) while rear cylinders were original to this model. Hoses and piping are custom bent brass rod and various diameter solder. The live steam crossover is large diameter solder with heat shrink tubing. The valve in front of the cab is a custom hand filed piece of solder. The reversing bell crank is styrene and bronze phosphor wire, as are the handrails. The firebox is from the shell of a Mantua camelback locomotive (although I can't recall which one though, either a 4-6-2 or 2-8-2). The boiler in front of the cab is from the same Mantua kit. The section of boiler between the firebox and cab is heated and bent styrene sheet, as are the running boards.
The frames are Mantua zamac castings for the 2-6-6-2 locomotive (three axles per frame), which as it turned out driver diameter and axle spacing was close enough to satisfy my needs and I think both were only off by a few scale inches). As I required a four axle per frame arrangement for my 0-8-8-0, I purchased four frames (two front, two rear) from Mantua and proceeded cut the first two of the three axles off the rear frames and the last two of the three axles on the front frames, making a total of four two axle half frames. Then placing them in a jig, I scored the parts with guide lines for alignment, measuring axle spacing, and proceeded to file the mating surfaces with a jewelers file. I bored holes lengthwise on the cut ends of the four pieces, and using solid brass rod as alignment pins and a dot of two part epoxy on the ends of pins, I proceeded to mate the two halves together for each frame and clamped for an hour. Also, the bottom frame covers (which hold the axles in place) were made using the same techinque (two each cut in halves), only they are not joined and are four pieces, each held in place by the original screw at each end of the frame.
Once the frame pins cured, I assembled the drive wheels with connecting rods (but not main rods) and checked for alignment and binding movement. Fortunately, the design of the frame has brass 'u' shaped axle bearing sleeves that are the full width of the frame, so I only had to file to "tweak" alignment on one bearing sleeve. Once I was satisfied with the axle alignments, I assembled the sub-chassis and motor drive, lubricated all axle bearing surfaces with graphite and sewing machine oil lubricant of my own concoction, and ran the mechanism for two hours in a vise to break in the mechanisms, rods, pistons and other reciprocating parts.
While this was going on, I finished super-detailing the body and began painting. The smokebox is FloQuil flat black with the rest of the body being Floquil semigloss black, applied with a sable brush. Like I said, I am not patient when it comes to painting. My personal philosophy has always been that freight and industrial engines were for the most part grimy and dented and a shiny, perfect paint job just doesn't capture the "grit and use" of a freight engine.
While I used the cast zamac boiler weights from the original model, I added a substantial amount of lead weight to fill in the remainder of the open space within the body shell. I then test assembled the body and chassis for fit, and tweaked accordingly.
Upon completion and my satisfaction of fit, I took the locomotive to the Catskill Mountain Model Railroaders club (then located in Kelly Corners, NY in the Hubble Brothers building), I test ran the locomotive on an actual layout with various radius curves and grades.. After some minor tweaking of the articulating frames, I operated the locomotive at various speeds, loads and direction for several hours. It ran flawlessly! I returned home, finished painting, and applied decals. Funny sideline here: I wanted to number the locomotive 2600, but the 2600 decal wouldn't fit the brass number plate I had purchased for the smokebox front. So, I numbered it 2601! Also, all the lead and solder I packed into the body cavities brings the weight of the locomotive without tender to 2.2 pounds!
The next operating day of the Catskill Model Railroaders Club, I unveiled #2601 in front of the other members. Frank Bell, (who supplied some of the parts and Erie fan) was so totally taken aback by the locomotive, he immediately offered me a substantial amount of money for it! As much as I liked Frank, I just couldn't bear to part with "my 2601". We held a little contest on the layout, pitting #2601 against the other locos. For starters, 2601 out-pulled every other single locomotive in presence. Then we did a "load test". We kept adding cars to a train pulled by #2601, which included a 2.5% grade containing a 20" radius reversing 's' curve (somewhat replicating the famous Ulster & Delaware Railroad's Pine Hill double horseshoe curve here in NY). #2601 only stalled out after 49 cars weighing around 1.5 to 3 ounces each (the Catskill layout standard weight was 1.5 oz., while my personal cars were weighted for 3 oz, due to poor trackage on my old home layout.) This 49 car train this may not seem like much, but keep in mind this was on a scale 2.5% grade with a double 's' curve. I would eventually like to see what #2601 could pull on the straight & level with a consistent 1.25 or 1.5 oz car weight for all the cars.
Other members tried pulling the same train with one, or in some cases two or three locomotives, and failed. In one case, another member had two diesel locomotives with six powered axles attempting to pull the 49 car train, but stalled just past the double 's' turn (point of maximum resistance both on grade and lateral). I ran 2601 up behind the train, and shoved, "pushing" the train just like the prototype in 1907 (albeit this with steam locomotives on the head end)!
I never got around to installing DCC into the locomotive, or finishing the superdetailing, so for the most part, 2601 now sits on a piece of panel track in my china cabinet on display. Every so often I take it out, put in locomotive cradle and run it to keep the mechanism in working order. Someday, I hope to take a trip over to Starrucca Viaduct and take better images with Starrucca as a back drop. (You'd think I would have already done so, as Starrucca is only about an hour and half away from me!)
.
My Scratchbuilt Erie L1
If any interested readers would like to submit images of their L1 models, please feel free to submit them to me. I would be honored to include them here.
.
.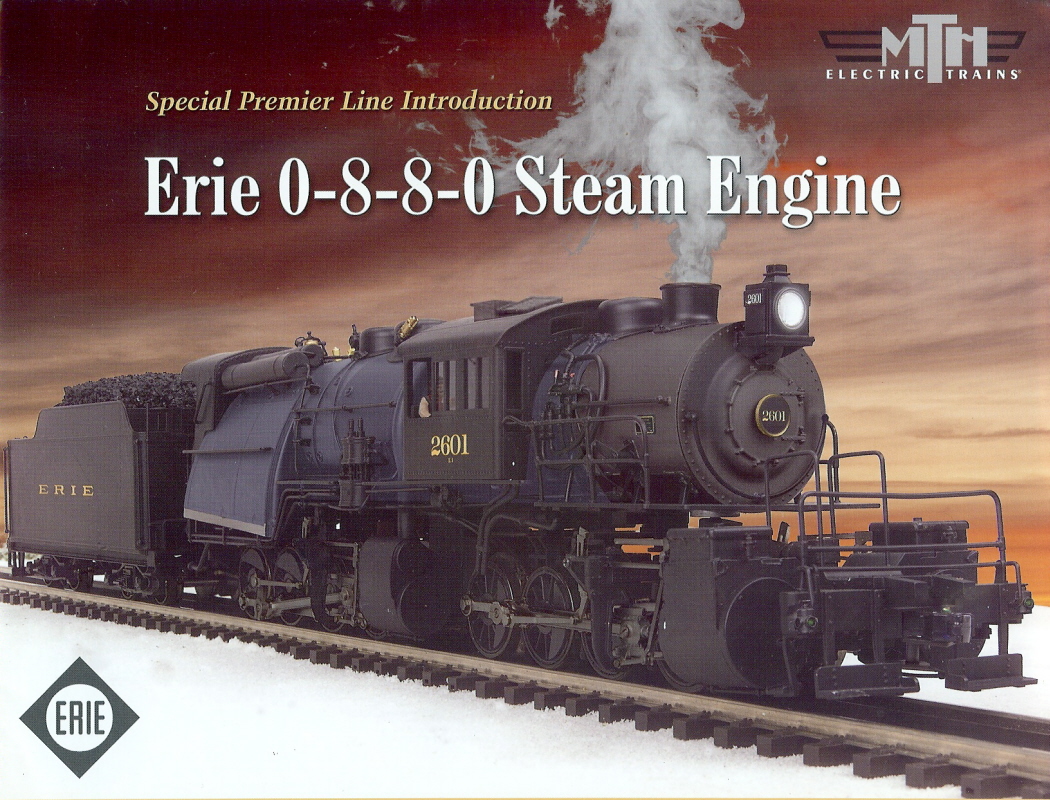 Front Cover & Inside of MTH Electric Trains for Erie 0-8-8-0
Item #20-3118-1
.
---
x
MEMORABILIA WANTED!

I AM ALWAYS INTERESTED IN PURCHASING ANY & ALL ITEMS
PERTAINING TO:
ERIE L1 CLASS 0-8-8-0 LOCOMOTIVES
Please feel free to contact me at:
---